Bacon-wrapped tilapia is simple, quick and yummy! It was also the perfect recipe experiment for my inaugural "What I Ate Today" post. I thought it might be helpful for some of the new folks if I occasionally shared my daily menu, so you could get some menu planning ideas and see how the low oxalate diet works  (at least my Paleo-ish, whole foods version of it). I also had a lot of left-over odds and ends in the fridge that needed using up today, so it was a great day to experiment with a new recipe or two.  Here's what the day looked like.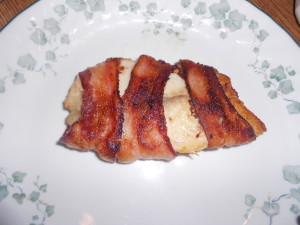 Breakfast was my everyday standby. Yes, I'm boring. I eat the same very low oxalate breakfast almost every morning, except some mornings I stir-fry a half cup of veggies in the oil before I cook the eggs (onion, red pepper and zucchini is a favorite combination).
Breakfast:
3 eggs cooked over-easy in a teaspoon of olive oil   ( < 1 mg. oxalate)
1 cup Madagascar Vanilla Tea (rooibos)   ( 0.9 mg. oxalate)
Total: about 1.5 mg. oxalate
My lunches these days are typically some combination of left-overs, either warmed up or added to a salad.  My boys usually enjoy cottage cheese or yogurt and fruit, although today they wanted the chicken.
Lunch:
4 -5 ounces roast chicken seasoned with salt, white pepper and a little thyme ( 1.5 mg. oxalate)
1 cup southern -style turnip and collard greens (about 13.5 mg. oxalate)
1 large yellowish-red gala apple (mostly yellow) ( about 4 mg. oxalate)
Total: about 19 mg. oxalate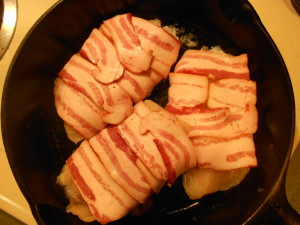 I usually like to cook something new for dinner on Saturday night, but  I had a little bit of butternut squash, a few rings of pineapple and some uncooked bacon that seriously needed eating. Plus, I'd picked some fresh lettuce and arugula from the garden while weeding this afternoon and really wanted a salad. I was flipping through a magazine earlier in the day and saw a recipe for bacon-wrapped tilapia. Perfect! The recipe included potatoes and a bunch of other high oxalate ingredients. Plus, it required grilling in a basket, but it did spark the idea and I had a few tilapia fillets in the freezer. I rubbed the fish with an oil/spice mix, wrapped each in bacon and cooked them in my cast-iron skillet (see the recipe below). When I was finished, I removed the fish, poured out most of the grease and added a 1 lb. bag of frozen cauliflower to the skillet. I cooked the cauliflower for about 8 minutes, stirring occasionally, added a little salt and white pepper and served.  It was about the best cauliflower I've ever tasted and even my sons asked for seconds. We ended up eating the whole bag! One of my sons ate an entire large fillet with three slices of bacon, too, so I guess this dinner is a keeper. Here's the oxalate run-down for my dinner.
Dinner:
Bacon-wrapped tilapia fillet (4.5 mg. oxalate  )
1/4 cup pineapple (about 5.5 mg. oxalate)
1/2 cup baked, unseasoned butternut squash (4.9 mg. oxalate)
1 cup mixed lettuce and arugula with homemade vinaigrette ( about 2 mg. oxalate)
1 1/2 cups stir-fried cauliflower (about 5.5 mg. oxalate)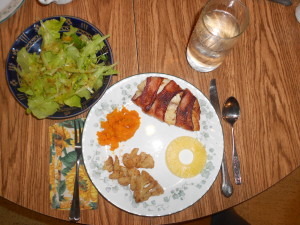 Dinner Total: 22.4 mg. oxalate
Daily Oxalate Total:  42.9 mg. oxalate
I hope you've enjoyed a sample menu from a typical day in my Paleo-ish, gluten-free, dairy-free world. You'll notice I consumed about ten half-cup servings of fruit and vegetables. I don't always hit this number, but I try for at least seven a day. I also occasionally eat black-eyed peas, a little sugar, greens peas, corn tortillas or rice, so I'm not completely Paleo. But I'm hoping to be again soon. And today was actually a Paleo perfect day for me, so that felt good. I'm stuffed and happy after that monster-sized dinner, so I probably won't snack before bed. I also ate only one medium-oxalate food (boiled collard greens), so this was a lower oxalate day than some. Overall, a pretty yummy day in my world.
Here's the recipe for the Bacon-Wrapped Tilapia.
Bacon-Wrapped Tilapia
4 tilapia fillets (about a pound)
1 teaspoon sesame seed oil
1 teaspoon white pepper
1/2 teaspoon paprika
8 -12 slices uncured, preservative -free bacon
Rub each fillet with a mixture of white pepper and paprika then drizzle with sesame seed oil. Wrap 2-3 slices of bacon around each fillet. I chose to completely wrap the fillets with bacon, but you could also leave a gap between the bacon slices and only use two . Cook in skillet over medium heat until bacon in browned on one side. About 7 minutes. Pour off some of the bacon fat if needed and cook another 6-7 minutes until the bacon is browned (it won't brown if you've got too much grease in the skillet.) Transfer finished fillets to a paper towel-lined plate and let drain a minute. (If you're cooking the cauliflower, too, this is the time to add your bag of frozen veggies to the skillet, turn up the heat a little, and stir-fry until tender.)
Makes 4 large servings or 8 smaller servings
Low Oxalate Info: All ingredients in bacon-wrapped tilapia are low oxalate except  paprika, which  has about 6.0 mg. oxalate per teaspoon. Bacon-wrapped tilapia has about 4.5 mg. oxalate per large serving (made with three slices bacon).
Other Diets: Bacon-wrapped tilapia may also be appropriate for gluten-free, dairy-free, grain-free, Paleo, low carb, GFCF and GAPS diets. Be sure to use  uncured, preservative-free bacon if you follow the GAPS protocol.