I don't make these hot chocolate steamers for my sons very often because I don't like to feed my family the artificial ingredients in the Torani's Sugar Free Chocolate Syrup. But today is Christmas Eve Day, and it's icy and snowy in mid-Missouri, a perfect day to sip hot chocolate by the fire with a couple of Oatmeal Butterscotch Cookies. I also have to admit that this syrup doesn't taste artificial. It tastes really good, especially if you haven't had the real thing in a long time. Hope you enjoy your steamer and Happy Holidays!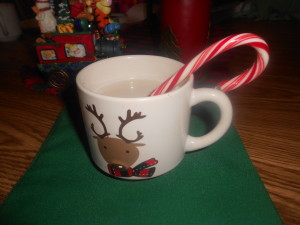 Hot Chocolate Steamer
1 cup milk
1/4 cup Torani's SF Chocolate Syrup (or to taste)
Mix the milk and the syrup in a large glass measuring cup. If you have one of those nifty steamer attachments on your coffee or cappuccino maker, then run your hot chocolate through the steamer attachment and enjoy. If you don't have a steamer, you can either warm the milk in the microwave (on high for about a minute) or on the stove top. It won't be as frothy this way, but it will still be yummy!
Serve in a large mug, or divide in half and share with a friend.
Low Oxalate Additions: Add a dollop of whipped cream, a peppermint stick stirrer, or a pinch of mace or cardamom. My boys love the candy canes but I prefer the mace. So Delicious!
Low Oxalate Info: All ingredients in your Hot Chocolate Steamer are low oxalate.  Torani's Sugar Free Chocolate Syrup has about 1.4 mg. oxalate per fourth cup, while milk ranges from 0 – 2.9 mg. per cup depending on the brand and how it was processed. So your hot chocolate steamer has about 1.4 -4.3 mg. oxalate if you drink the whole thing.