Paleo Butternut Squash Cake is a fabulous, moist and lightly-sweet cake. My inspiration for trying this recipe was a growing desire to have carrot cake again. Or at least cream cheese icing! Carrot cake was my favorite cake while growing up, and I still miss it. My mom makes her cake with lots of carrots, cinnamon and walnuts, plus she often adds extra wheat germ for "good health." With all those high oxalate ingredients, you can imagine that cake isn't very healthy for me!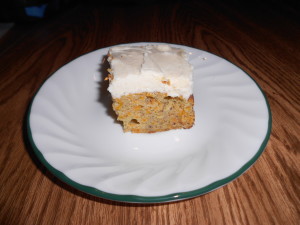 About a month ago I went to a Paleo potluck and was introduced to Paleo Carrot Cake with Coconut Cream Icing. I had a bite and it was fabulous, although I knew I'd personally prefer a lightly-sweetened cream cheese icing.  The woman who brought the cake used this carrot cake recipe from The Food Lover's Kitchen and this coconut buttercream frosting recipe, also from The Food Lover's Kitchen.  If you look closely at the recipe for this high oxalate carrot cake, you'll notice it has what I call "good bones." What I mean by this is that the high oxalate ingredients can be easily substituted with low oxalate ingredients or left out without complete recipe failure. Plus, the carrot cake gets star reviews from every one who tries it. With just a little tinkering, I produced this Paleo Butternut Squash Cake which was equally moist and delicious. (BTW, I apologize for the sad picture, but I thought you'd rather get the recipe now than wait for my food photography skills to improve! At least you get the idea that the cake has a nice texture.)
For those of you who eat a Paleo diet or close to it, you will find Paleo Butternut Squash Cake perfectly sweet the way it is. If you  are used to a much sweeter cake, however, you may want to add some sugar. See my notes after the recipe for alternate ways to make this cake.  Also, I included my Paleo version of cream cheese icing. However, you may want to try a more traditional cream cheese icing (which has more oxalate) or add a little extra maple syrup to my recipe here.  If you are on a dairy-free, GFCF or vegan diet, eat the cake without icing or try this Coconut Buttercream Frosting or this Dairy-free Vanilla Buttercream Frosting, also from The Food Lover's Kitchen. Both are low oxalate, although they have substantially more oxalate than both my cream cheese icing recipe or a traditional cream cheese icing recipe (see oxalate notes below.)
Hope you enjoy this yummy low oxalate Paleo Butternut Squash Cake!
Paleo Butternut Squash Cake with Cream Cheese Icing
(adapted from a recipe from The Food Lover's Kitchen)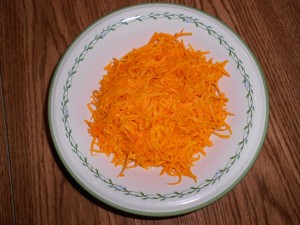 3 cups raw butternut squash, (about one large butternut squash)
3/4 cup coconut flour
2 teaspoons cardamom
1 teaspoon GF baking soda
1 teaspoon salt
10 eggs
1 tablespoon raw ginger, grated
1 tablespoon pure vanilla extract
1 cup coconut oil, melted
1 cup maple syrup, grade B
1/2 cup raisins
1 recipe cream cheese icing
Pre-heat oven to 325 degrees. Peel and de-seed the raw butternut squash; then shred it in a food processor, using the shredding blade, or hand shred. (See picture above. Doesn't that look like shredded carrot?) Mix the flour, cardamom, baking soda and salt in a small bowl. In a separate bowl, mix the eggs, ginger, vanilla, coconut oil and maple syrup using an electric hand mixer (or use a whisk and mix really well). Slowly add the dry ingredients to the wet ingredients, mixing well. Stir in the butternut squash and the raisins. Pour the batter into a greased 13 X 9 inch cake pan for sheet cake or two 9 inch cake pans for a two-layer cake. Bake for about 35 minutes, testing with a tooth pick until the tooth pick comes out clean. Let the cake cool completely before frosting with cream cheese icing.
Serves 12 -15 (depending on slice size)
Paleo Cream Cheese Icing
16 ounces cream cheese, softened
1/4 cup butter, softened
1/2 cup pure maple syrup, grade B
2 teaspoons pure vanilla extract
Let cream cheese and butter come to room temperature. With a hand mixer, mix cream cheese, butter, syrup and vanilla until smooth. Use right away or refrigerate. This recipe makes enough icing for the 2 – layer cake. If you make a 13 X 9 inch sheet cake, you'll have a little frosting left over unless you go crazy like I did the picture at the top of the page.
Where to purchase specialty ingredients in the USA, UK and Cananda: Many if not most of the specialty ingredients in this recipe should be available in health stores in the USA, UK and Canada or in the health section of many large-chain grocery stores. If you need to purchase ingredients on-line or just want to check out the ingredients, US readers can click on the links in the recipe. UK readers please use these links (coconut flour, cardamom, pure vanilla extract, coconut oil, gluten-free baking soda, grade B maple syrup). And Canadian readers please use these links (coconut oil, pure vanilla extract, grade B maple syrup)
Variations:
If you like a traditional sweet cake, you won't think this Paleo cake is sweet enough. You can add 1/2 – 1 cup sugar to the dry ingredients without messing up the recipe. Do not add extra maple syrup to the cake recipe! It won't cook all the way through and you'll have a gooey mess. You may also want a sweeter icing. Add 1/2 – 1 cup confectioner's sugar to the icing recipe or add another 1/4 cup maple syrup (icing will be a bit runny). Adding sugar to either the cake or the icing will raise the oxalate content of the entire recipe about 4 mg. per half cup sugar added (or about 0.3 mg. per slice). Adding an extra 1/4 cup maple syrup to the icing recipe will only add about 0.4 mg. oxalate to the entire frosting recipe and a trace amount of oxalate to each slice.
If you do not have coconut oil on hand, you can use a light olive oil or melted butter. Light olive oil will increase the oxalate content of the cake by about 1 mg. oxalate per slice. Butter will increase the oxalate content by about 0. 2 mg. per slice.
If you do not have raw ginger on hand, try using a teaspoon of nutmeg instead. It's a different taste (and a tiny bit more oxalate per slice (o.2 mg.), but it's good, too.
If you are serving Paleo Butternut Squash Cake at a party and only plan to eat one slice, you may want to treat yourself and your guests to some chopped walnuts sprinkled on the frosting as a garnish (walnuts are on the lower end of the high oxalate spectrum and have 21.3 mg. oxalate per half cup, chopped). This will only add about 1. 4 – 2.8  mg. of oxalate per slice if you use 1/2 – 1 cup walnuts for the entire cake, and it really is a yummy addition!
Low Oxalate Info: One piece of Paleo Butternut Squash Cake without icing has about 4.4 mg. per slice (based on a sheet cake cut into 15 slices).  Lucerne brand cream cheese has 0.0 mg. oxalate per tablespoon. Based on this oxalate value, an entire recipe worth of cream cheese icing has about 1.7 mg. oxalate. This means each piece of frosted Paleo Butternut Squash Cake has about 4.5 mg. oxalate (based on 15 slices). If you do not have access to Lucerne brand cream cheese or use another brand, don't worry. It's likely all cream cheese brands are very low oxalate. Even if your brand is not zero oxalate, it is very unlikely your cream cheese icing adds more than 0.5 mg. oxalate per slice.  Both non-dairy frosting links above are low oxalate and add about 2 mg. oxalate per slice.
Other Diets: Paleo Butternut Squash Cake may also be appropriate for gluten-free, vegetarian and Paleo diets, and for dairy-free, GFCF and vegan diets without the icing.