Black-eye pea fritters (Akara) are a common street-vender food in West Africa where they have been a staple for many generations.  Black-eye pea fritters are also a common food in many Caribbean nations, such as Puerto Rico and Cuba, and in the southern United States.  Like many African foods, the pizazz is in the sauce.  The fritter itself has a comforting starchy blandness like rice or bread. In some places, the sauce has a tomato base.  In other places, it's sweeter with lots of onion, sweet pepper or pumpkin.  Where ever you go, it's hot!
When I was in Africa, I tried a well-sauced black-eye pea fritter and couldn't put the fire out in my mouth for hours.  Africans love their hot food! Most would make these with fresh habanero or scotch bonnet peppers.  Habanero peppers are low oxalate, so go for it if you like really spicy foods.  I prefer to give the sauce just enough kick to complement the natural sweetness of the onions and red peppers.  For me, that means about 1/8 -1/4 teaspoon of cayenne for the sauce and an 1/8 teaspoon for the fritters.  Have fun experimenting!
Black-Eye Pea Fritters (Akara)

For the Sauce: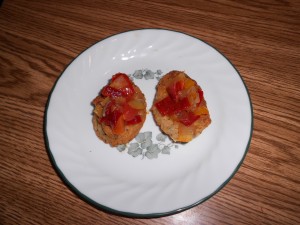 1 cup onions
1 cup red pepper
1/2 cup big beef tomatoes
1/8 – 1/2 teaspoon ground cayenne pepper
Dash of salt
2 T coconut oil or peanut oil
For the Fritters:
1 cup dry black-eye peas (or two cups cooked/canned black-eye peas)
1 teaspoon apple cider vinegar or lemon juice (if using dry beans)
1/2 cup minced onion
1/8 – 1/4 teaspoon cayenne pepper
1/2 teaspoon salt
6-8 tablespoons water
coconut oil or peanut oil for pan frying (these are the traditional oils used)
Step 1:  Set the dry beans and apple cider vinegar in a large bowl with enough water to cover them by a 3-4 inches.  Let the peas soak for 12 -24 hours.  Remove any floating "skins" or debris. Drain the peas and rinse.
Step 2:  Make the sauce.  Puree the onions, red pepper, tomato, cayenne, and  salt in a food processor or blender.  Warm the oil over medium heat.  Add the puree and cook, stirring occasionally,  until most of the liquid is evaporated about 10 – 12 minutes. Note: You can dice the veggies really fine and leave this sauce chunky is you prefer.
Step 3.  Put the rinsed black-eye peas, onions and cayenne pepper in a high quality/powerful  food processor or a high quality/powerful blender.  Pulse until you get something similar to a corn meal consistency – it will still be  "grainy'" but shouldn't have big chunks of bean (My Cuisinart Elite Food Processor handles this easily in less than 30 seconds). If you do not have a powerful blender or food processor, you will probably want to use cooked/canned peas to get a smooth consistency (see note).  Add the salt and 6 tablespoons of water and mix until well-blended.  The batter should drip slowly off a spoon.  If it is too thick — add up to 2 tablespoons more water until the right consistency is achieved.
Note: I highly recommend using the soaked dry beans if you have the equipment because the fritters are much easier to cook and have a more pleasant, bread-like texture.  If you use cooked/canned peas, for your black-eye pea fritters you will definitely want to use eggs or corn meal as a binder (see "what to do if your fritter falls apart" below).  You will  also need to experiment with the water (I needed less).  These fritters still taste great, but they'll have a creamier consistency that isn't as bread-like as a fritter made with soaked dry beans.
Step 4.  Africans traditionally deep fry black-eye pea fritters, but I find you can pan fry them in 1/2 – 1 inch oil with good results.  Add about a half inch oil to a heavy skillet or dutch oven over medium to medium-high heat.  Test the oil with drops of batter – it should bubble when ready.  Drop fritters into the oil by tablespoons (get really close to the oil and ease the batter in to keep it from breaking apart).  Fry on each side for about 1.5 to 2 minutes.  Drain the black-eye-pea fritters on paper towels, adding more oil as needed.  After each batch, use a slotted spoon to scoop out any broken up "extras."  These crispies are not only yummy, but if you let them stay in the oil too long they will burn and make all of your later batches taste burnt.
Serve with hot sauce.
Makes 24 – 36 fritters depending on your interpretation of a tablespoon . . .
If Your Batter Breaks Apart While Cooking:  Keeping your black-eye pea fritters from falling apart is a learned skill.  Easing them into the oil gently (dropping from a half inch above the oil) helps a lot.  So does chilling the batter.  The real problem for me comes with the flip.  Like a pancake, it will work better if you make the fritters small and somewhat flat (so they set most of the way through before the flip).  I find using both a metal spatula and a spoon helps me ease the fritters over.  If this doesn't work for you and you don't care about being authentic, you may add an egg or two to the batter as a binder.  Vegans may add a tablespoon or two of corn meal.
Low Oxalate Info: All ingredients in West African Black-Eye Pea Fritters are low oxalate as long as you choose a low oxalate tomato variety like big beef or pink girl.  A half teaspoon cayenne pepper has 3.0 mg. oxalate, so whether you choose to use 1/8 teaspoon or 1/2 teaspoon won't affect the oxalate content much.  Coconut oil has 0.2 mg. oxalate per tablespoon, while peanut oil has 0.6 mg. per tablespoon, so your choice here won't matter much either.  In African, you can smell the ground nut oil cooking whenever you enter a market where street vendors sell black-eye pea fritters.  Home cooks may use coconut oil, however, and it also has a lovely aroma, so both add to the experience.  Black-eye pea fritters have about 1 mg. oxalate per fritter with sauce, based on your recipe making 28 fritters and you dividing the sauce evenly between them (using 1/2 teaspoon cayenne and coconut oil).  Three fritters makes a nice appetizer or side dish, while 5-8 fritters makes a filling vegan main dish.
Menu Idea: For a completely West African meal, try these black-eye pea fritters with West African chicken soup.  Or try a southern soul dinner and serve black-eye pea fritters with  roast chicken, creamed corn and  Southern-Style Low Oxalate Greens.

Left-Overs? You can heat up the left-over fritters in a skillet or toaster oven for a do-over of the original fare.  Or try splitting them in half and using them like bread or crackers.  They taste great with low oxalate hummus and a slice of tomato, and they also make a decent ham and cheese sandwich with a little of the left-over sauce.  For the grain-free folks, these fritters can really fill in some of the gaps left by bread.
Other Diets:  West African Black-Eye Pea Fritters may also be appropriate for gluten-free, GFCF, vegan and vegetarian diets.
Photo credit goes to Ryan Kilpatrick for Sidewalk Vendor.