I was beginning to fear the summer was going to slip by without the chance to make my coconut flour zucchini bread. Then a neighbor dropped by a whole bag full. Score! Enough to enjoy plenty of yummy bread now and to freeze some for winter.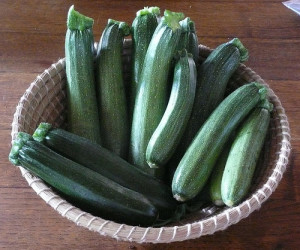 This bread is just a modification of my coconut flour banana bread with plenty of veggie goodness. I love seeing the flecks of green from the peel!  Of course, it's the yellow crookneck squash that I always have in abundance in my garden. I use them a lot in this coconut flour zucchini bread and sometimes add some to my banana bread to fake my sons into eating more veggies. They never see it coming with those yellow peels!
Coconut Flour Zucchini Bread

4 eggs
1/4 cup coconut oil, melted
1 tsp pure vanilla extract
1/4 cup  low oxalate coconut milk (I use Natural Value coconut milk)
1/2 cup coconut flour
1/2 tsp gluten-free baking soda
1/4 tsp. salt
1/2 tsp cardamom (optional)
1/2 – 1 teaspoon Now Organic Stevia Powder
1 cup shredded zucchini (or yellow summer squash), water squeezed out
Preheat oven to 350 degrees and line an 8 x 4-inch loaf pan with parchment paper across both sides for easy lifting OR  grease pan well (I use coconut oil spray or ghee). Set aside. Combine eggs, oil, coconut milk and vanilla extract in a large bowl with an electric mixer (using a mixer or blender gives this bread an airier texture than mixing by hand). Whisk coconut flour, baking soda, salt, cardamom and Stevia powder in a small bowl. Once mixed, slowly add the dry ingredients to the wet mixture and mix until smooth (Warning: if you add it all at once you might get "coconut flour cement!") Add the shredded zucchini and mix well (use your hand to squeeze it out over the sink before you throw it in). Pour batter into prepared loaf pan and bake in preheated oven for 40-45 minutes or until toothpick inserted comes out clean. Remove from the oven and allow to cool for 5 minutes. Remove from pan and allow to cool on a cooling rack for 20 -4o minutes before slicing and serving. I personally prefer this bread plain and cold out of the fridge, but you may enjoy yours topped with butter, coconut oil, cream cheese or sunflower seed butter.
Makes 10 – 12 slices.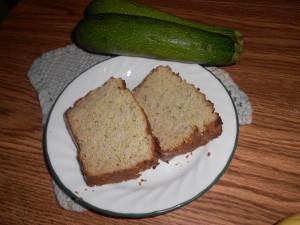 Modifications:
You may substitute cow or goat milk, cream or half and half for the coconut milk. You may also substitute honey or maple syrup for some or all of the coconut milk — up to a forth cup–and leave out the Stevia.
I enjoy this bread with cardamom (up to 1 teaspoon is yummy), but I also like the simple, plain taste of zucchini bread without spices. I find the plain bread quite comforting. You may leave the cardamom out, or you may substitute 1/2 teaspoon nutmeg or 1 tsp Doctor's Best cinnamon extract (1.5 mg. oxalate per 13 capsules). I also sometimes add a little cinnamon oil, but please note: I presume cinnamon oil is low oxalate since all oils we have tested so far are, but it may not be! Please, use cinnamon oil with caution. If you like a spicier bread, try using 1 tsp cinnamon extract, 1/2 tsp. cardamom, and 1/4 tsp nutmeg. My family really likes this combo and it's still low oxalate!
Combine my banana bread and zucchini bread recipes, by adding a mashed banana to the zucchini bread recipe and leaving out the coconut milk. This is a great way to get your banana-loving kids to eat more zucchini! Use the yellow squash or peel the zucchini if "yucky green stuff" if a problem with your kids.
Low Oxalate Info: All ingredients in Coconut Flour Zucchini Bread are low oxalate or very low oxalate, except cardamom which has 6.14 mg. oxalate per teaspoon. Yes, powdered Stevia was retested last year and Now Brand Powdered Stevia has zero oxalate! Yeah! I have a half-written post about cooking with powdered Stevia, especially the Now Organic Stevia Powder (which is quite different than the other brand I used many years ago) but I didn't want to wait on this recipe in case your neighbors were sharing their zucchini harvest, too. Anyway, Coconut Flour Zucchini Bread has about 1.2 mg. oxalate per slice based on 12 slices per loaf.
Picky Eater Pleaser: Use yellow squash or peel the zucchini if "yucky green stuff" if a problem with your kids.
Other Diets: Coconut Flour Zucchini Bread may also be suitable for Paleo, gluten-free, dairy-free, vegetarian, low carbohydrate and GFCF diets. It may also be appropriate for GAPS with a few modifications.
Photo Credit goes to Christina Nociveglia for the nice shot of the zucchini in the basket at the top of the page.