I like to call this simple cabbage and ground beef meal egg roll stir-fry because it reminds me of eating the inside of an eggroll. It's a really simple, low oxalate dish that I started making fifteen years ago and still make regularly. In fact, it's one of my stand-bys, especially for lunches. I like to make a double batch of egg roll stir-fry on Sunday, serve it up into five or six pyrex glass left-over containers and take it every day to school for a nourishing, low oxalate lunch.  You can add extra seasonings like ginger, sesame seed oil, or coconut aminos, but I find a little bit of salt and white pepper is still my favorite. Egg roll stir-fry is gluten-free, dairy-free, Paleo approved, and GAPS friendly, so if you are trying to heal gut issues, this simple stir-fry might work for you. Best of all, it's really easy to make.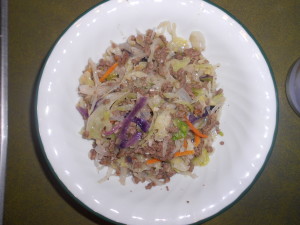 One reason egg roll stir-fry is so simple is because it uses pre-washed, pre-shredded, preservatie-free cole slaw mix. You can chop up your own cabbage for egg roll stir-fry if you want, but I almost always opt for cole slaw mix to make this recipe really easy. The mix I like best is the store brand at my local grocery store. It contains mostly green and purple cabbage with a little bit of carrot. Before carrots were retested last fall and found to be medium oxalate (11.39 mg. per half cup raw)  instead of high oxalate, I separated out all the carrots and measured them to see just how much carrot was in my one pound bag of coleslaw mix (yes, totally OCD, I know). I measured less than 1/4 cup carrot and about 3 cups mixed green and purple cabbage, so I decided it was okay to eat. Now we know for sure that it's okay, and I base my oxalate totals on this break down of the cabbage mix.
Hope you enjoy this simple stir-fry as much as I do.
Egg Roll Stir-Fry
1 lb. ground beef or ground pork
1 onion, chopped (about 3/4 cup)
2-3 cloves garlic
1 one pound package cole slaw mix (or about 3 cups chopped cabbage)
1/2 cup green peas (optional)
Salt and white pepper to taste (UK readers click here)
2 T coconut aminos (optional)
Cook ground beef in a dutch oven over medium heat until it's about half brown, half pink. Add the onions and garlic and stir-fry for another 4-5 minutes until the meat is browned throughout. Add cole slaw mix and continue to stir-fry until the cabbage is tender (about 8 – 10 minutes).  If you are using a high fat ground beef you may have to drain some of the fat before adding the cabbage. I use ground chuck and it's about the right amount of fat and steamed meat juices to cook the cabbage nicely. When the cabbage is tender, add the peas and coconut aminos if using and heat through. Add salt and white pepper to taste.
Makes four servings.
Low Oxalate Info: All ingredients in egg roll stir-fry are low oxalate, except for the very small amount of carrots, which are medium oxalate (5.7 mg. oxalate per one fourth cup).  One serving of egg-roll stir fry (made with coconut aminos, peas and 1/2 teaspoon white pepper) has 5.5 mg. oxalate. I eat a serving of egg-roll stir-fry as my entire meal, but it's also great served over long grain white rice.
Other Diets: Egg roll stir-fry may also be appropriate for gluten-free, dairy-free, Paleo, GAPS and GFCF diets.