Silky gingered zucchini soup is my new favorite. When I first read Melissa's recipe on her fabulous blog The Clothes Make the Girl, I knew I had to make a lower oxalate version and try it right away. I also wanted to make my version vegan because I knew my vegan readers would appreciate a new recipe and this seemed like a good possibility. Boy, was I right!  My version of silky gingered soup is full of nutrition and flavor and it's so silky and smooth. It's also very comforting on a cool spring morning or evening.  My favorite thing about silky gingered zucchini soup, however, is that it's the perfect way to use up all that frozen zucchini in my freezer! This recipe doesn't depend on the zucchini having good texture, so frozen zucchini works just as well as fresh. Just remember that this summer if you or your neighbor get a bumper crop.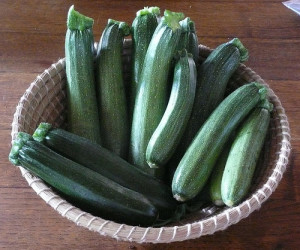 Silky Gingered Zucchini Soup
1 tablespoon coconut oil
1 cup chopped yellow onion (1 big one)
4 – 6 cloves garlic, minced
1 teaspoon salt
1/2 teaspoon white pepper
1 tablespoon raw ginger, minced (see note)
4-5 cups zucchini, roughly chopped (4 medium zucchini)
4 cups water
2 bay leaves
1 capsule Jarrow 95 curcumin extract (optional)
Heat coconut oil in a large soup pot on medium heat for two minutes. Add onion, garlic, salt, pepper and ginger and cook for about 5 minutes, stirring occasionally (you want the onions to soften but not brown). Add zucchini, water and bay leaves (no need to peel the zucchini, just wash it and chop it into 1 inch pieces). Break open the curcumin capsule and stir it into the soup. Bring the soup to a boil, then cover and reduce heat to a simmer. Cook about 45 – 60 minutes until the zucchini is very soft. If you have a magic soup wand (also commonly known as a stick blender or an immersion blender), go ahead and puree your soup in the pot. Otherwise, carefully transfer the soup to your blender in small batches and puree until smooth. Return to the pot to keep warm until you're ready to enjoy it.
Makes 8 servings
Note About Ginger: You might need to play around with the ginger amount to suit your own tastes. I've used up to 2 T of ginger in this soup and liked it a lot. You can substitute 1/2 tsp ground ginger for about the same amount of oxalate as 1.5 T raw ginger, but this isn't gingery enough for me (3/4 teaspoon ground ginger is about the minimum for a really mild, yummy taste). If you'd like to lower the oxalate of this dish, you could also use Olive Nation's pure ginger extract (which is very low oxalate). Ginger extract is an especially nice way to intensify the ginger taste if you don't want to go overboard with the raw ginger. I usually use 1 T raw ginger, then if I don't feel the end soup is gingery enough, I add a few drops of extract. Remember, ginger is easiest to deal with if you peel and freeze it, then just grate what you need into your soup.
Variation: If you'd like to pack more vegetable nutrition and flavor into your soup and are willing to give up the silky texture, try adding 3 -4 cups of chopped arugula. This peppery green adds lots of flavor and nutrition with very little oxalate to your soup (arugula is very low oxalate with about 0.7 mg. oxalate per half cup raw).
Low Oxalate Info: All ingredients in Silky Gingered Zucchini Soup are low oxalate, except for ginger which is medium oxalate. One serving of silky gingered zucchini soup has about 5.1 mg. oxalate per serving based on 8 servings, using 4 cups of zucchini.  If you end up using more zucchini, add about 3.25 mg. oxalate per half cup of zucchini. Also, if you experiment with the ginger levels, remember raw ginger has about 6.2 mg. oxalate per tablespoon, ground ginger has about 17.4 mg. per teaspoon, and Olive Nation ginger extract has about 0.22 mg. per teaspoon.
Other Diets: Silky Gingered Zucchini Soup may be appropriate for vegan, Paleo, GFCF, GAPs, low carbohydrate, dairy-free and gluten-free diets.