If you've been missing good 'ole hash browns then these rutabaga hash browns are for you!
I 've always loved those skillet breakfasts that you can get at places like Denney's and Mom and Pop cafes, so I was especially happy to discover that rutabaga (swede) makes good hash browns. Yum! I've really missed hash browns, but these rutabaga hash browns hit the spot. You can make them in a skillet with onions, red pepper, zucchini, sausage, bacon, mushrooms or arugula, then crack a few eggs over the top. Or just make the rutabaga hash browns by themselves and mix your "hash" on your plate.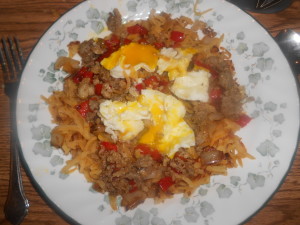 Here's my simplest breakfast skillet with rutabaga hash browns, which I make mostly in the winter with the red peppers I froze from my garden. When the spring greens start coming in, I'll add a handful of arugula or mustard greens to my skillet, and in the summer, yellow summer squash, zucchini and kholrabi hits the spot. But first, a lesson in picking out a rutabaga for those of you who are new to this low oxalate root vegetable.
How to choose a good rutabaga: Make sure to take care when picking out a rutabaga (swede), especially if you've never picked one out before. You want to pick a firm, "heavy" rutabaga, about 3-5 inches in diameter for the sweetest, rutabaga experience. Be sure to avoid a rutabaga that feels light for its size, is "old and woody" looking, is enormous, or has cracks or soft spots. BTW, these are the same guidelines for picking out a good turnip, except turnips should be 2 – 4 inches in diameter, slightly smaller than a rutabaga. Also, turnips are white with purplish skin on top, while rutabaga are yellow with purplish skin. The ones in the picture below and to the right all look pretty good.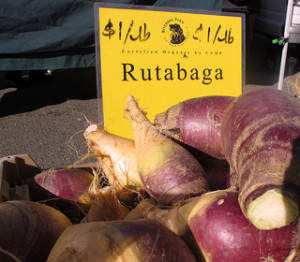 Low Oxalate Breakfast Skillet with Rutabaga Hashbrowns
1 1/2 – 2 cups rutabaga (swede)  (2 medium)
1  tablespoon olive oil
1/4 teaspoon sage
1/2 cup yellow onions (1 small)
1/2 cup red pepper (1/2 large)
4 ounces cooked low oxalate ground sausage (see note below)
4 eggs
salt and white pepper to taste
Peel the rutabaga and shred it in a food processor or by hand. Squeeze the excess water out of the rutabaga (I use my hands but you can also set it in a cheese cloth first). Heat the oil in a medium-sized skillet over medium heat. When the oil shimmers, add the rutabaga and spread evenly with a spatula. Sprinkle with sage, then let the rutabaga cook for about 7 to 10 minutes until browned. Turn the rutabaga hash browns over and push them to the side of the skillet to make room for your other veggies. Add onions and red peppers and saute until the onions are transparent. Add sausage to warm. At this point you may either crack your eggs over the top of your skillet breakfast and cover with a lid until they reach your desired doneness. OR pour your skillet "hash" onto two separate plates. Then crack your eggs into the skillet (you may need a tad more oil) and cook about two minutes. Flip the eggs and cook another 30 seconds or so until they reach your desired doneness. Add two eggs to each plate of "hash" and add salt and freshly-ground white pepper to taste.
Makes two large servings.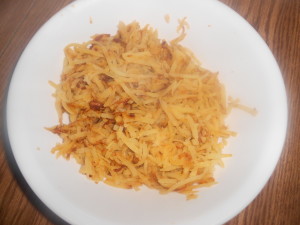 Low Oxalate Sausage: Most commercial brands of ground sausage have between 5.5 and 6.5 mg. per 2 ounce serving. You can make your own ground sausage with considerable less oxalate by mixing 1 pound ground pork with white pepper to taste (2-4 teaspoons), 2 teaspoons sage, 1 teaspoon thyme, 1/2 teaspoon rosemary and salt. Low oxalate mace is a nice addition, as is cayenne if you want more heat (try 1/4 teaspoon each). Another alternative is to mix one pound of commercial ground sausage with one pound of ground pork, then add salt and white pepper to taste. Both of these alternatives can get you down to about 3 mg. oxalate per 2 ounces of ground sausage (or less if you go easy on the herbs in your homemade version.) I hope to post a more complete recipe soon.
Low Oxalate Info: All of the ingredients in my low oxalate breakfast skillet with rutabaga hash browns are low oxalate. In fact, rutabaga is so low oxalate, you can fudge the amounts if you want a lot more hash brown in your breakfast skillet (rutabaga is only 3.2 mg. per cup, cubed). One large serving of low oxalate breakfast skillet with rutabaga hash browns has 9.7 mg. oxalate and includes 3 servings of veggies, 2 eggs and 2 ounces of meat, a complete breakfast for even the hungriest low oxalate dieter! (Oxalate values are based on 2 cups of rutabaga per recipe.)
Photo credit goes to QueenaSookKim for rutabaga.