I love oatmeal raisin cookies, and these are very satisfying despite being the ultimate allergen-free cookie. My oatmeal raisin cookies are gluten-free, flour-free, egg-free, dairy-free, nut-free and low oxalate. You can also keep the sugar low if you want (see my note about sweeteners after the recipe.) Low oxalate oatmeal raisin cookies have a classic oatmeal cookie taste that goes well with coffee, bush tea or milk. I really love these cookies!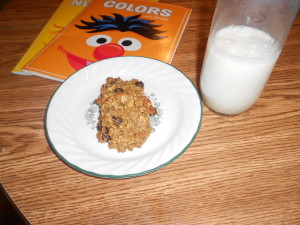 Now that I've told you how fabulous my oatmeal raisin cookies are, I'll admit they have one problem. Sunflower seeds contain chlorogenic acid (chlorophyll) which reacts with baking soda by turning green. Yes, if you've ever just substituted sunflower butter for peanut butter in a cookie recipe, you've learned the hard way that your cookies will turn bright green as they cool. The solution is to reduce the baking soda and to add lemon juice to create the right acidic conditions to stop the reaction from taking place. The Sunbutter website suggests that halving the baking soda and adding lemon juice will solve the problem. Unfortunately, that solution doesn't quite cut it. Here, I've decreased the baking soda to one fourth of what most cookie recipes call for and have added a full tablespoon of lemon juice. These cookies will still turn slightly green, but it's not too bad, and more lemon juice starts to add a lemony flavor I personally don't care for. If you wish to experiment, go ahead and replace some more of the water with lemon juice. You may really like these oatmeal raisin cookies with a hint of lemon. Of course you could always serve them green for St. Patrick's Day, too!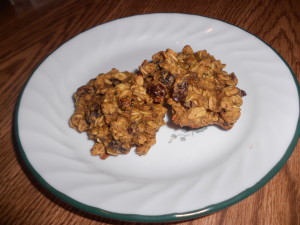 Oatmeal Raisin Cookies
2 tablespoons ground flax seed
¼ cup warm water
1 tablespoon warm lemon juice
1/3 cup Sunbutter
1/3 cup apple sauce
1 teaspoon pure vanilla extract
¼ teaspoon baking soda
¼ teaspoon salt
¼ – ½ cup sugar* (to taste)
2 T brown sugar
1 ½ cups GF rolled oats or GF quick oats
½ cup raisins
Put ground flax, water and lemon juice in a mixing bowl. Stir and set aside until mixture starts to look goopy, about 5 – 8 minutes. Add sunflower seed butter, apple sauce, vanilla, baking soda, salt and sugar. Mix thoroughly. Add the oats and raisins and mix well. Let the dough rest for about 5 – 10 minutes. Drop by scant tablespoons onto a greased cookie sheet. Bake at 350 degrees for 11 – 13 minutes until golden brown.
Makes about 18 -20 cookies
Low Oxalate Info: Oatmeal is sometimes listed as medium oxalate and sometimes listed as high oxalate depending on the serving size (rolled oats have about 10 mg. per ¼ cup* or 20 mg. per ½ cup*). That's too much oxalate for daily consumption, but not too much that most low oxalate dieters can't have an occasional oatmeal cookie. My oatmeal raisin cookies have about 4.8 mg. oxalate per cookie (based on 20 cookies per recipe). I often will halve or even quarter the recipe, so I only have enough cookies for one or two family meals and won't be tempted to over-indulge.
If even this much oxalate is too much for you, take heart. My oatmeal raisin cookies Take 2 recipe is in the works and will have quite a bit less oatmeal (and more flax seed and sunbutter) for a lower oxalate cookie.
*These are average values. Some brands of rolled oats have as little as 8 mg. per ¼ cup, while others have as much as 12.5 mg. per ¼ cup.
A Note about Sweeteners: I originally made my oatmeal raisin cookies with ½ cup white sugar and 2 T brown sugar. I thought they were way too sweet, but my sons thought they were perfect. This recipe also works if you reduce the sugar to ¼ cup total. In fact, I was able to make these cookies without processed sugar and the recipe worked just fine. I substituted apple juice for the water, added a dropper of liquid stevia, increased the raisins by a few tablespoons and left out the sugar. The resulting cookies were lightly sweet, but still very yummy.
Other Diets: Low oxalate oatmeal raisin cookies may also be suitable for gluten-free, dairy-free, vegan, egg-free, GFCF and nut-free diets.
{ 0 comments }